EVALUATION OF THE CORROSION RESISTANCE OF THE PAINTED FILMS
Currently, the assessment of the corrosion resistance of the painted film is one of the important criteria in assessing the quality of paints, especially those used in the sea or in the vicinity of the sea. At Megarad, we evaluate the corrosion resistance of paint in NaCl salt solution by immersion in a thermostatic bath. This method is referred to as standard TCVN 8792:2011 "Paints and protective coatings of metals - Salt blind test method"
The Memmert thermostatic bath is a common laboratory device that keeps samples at a certain temperature for a specified period of time.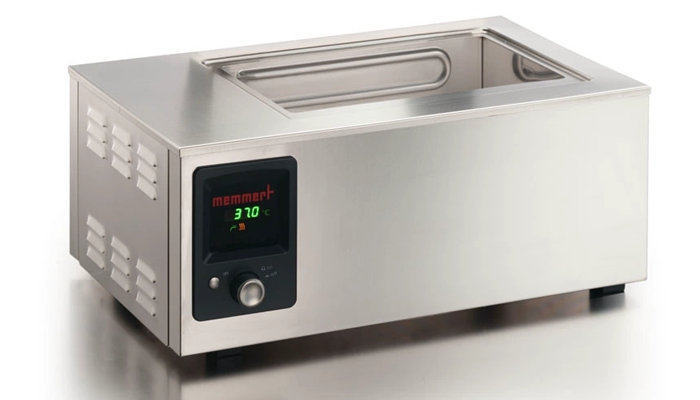 Photo: thermostatic bath
Evaluation of salt corrosion resistance of paint film by soaking in NaCl salt solution. The salt solution was prepared in compliance with TCVN 8792:2011, has a concentration of 5%, pH= 6.5-7.2, density= 1,028-1.032g/cm3, temperature of solution maintained at 35±2oC .
At Megarad, the basic operations in assessing the corrosion resistance of paint films include the following steps:
- The paint film is sprayed to the standard dry thickness, then using a knife to slit 2 diagonally across the surface to be evaluated, covering 4 surrounding edges with paraffin.
- Set the temperature value in the annealing to (35±2)o
- When the tank is heat-stabilized, hang the slide in the incubation tank so that the slides must be kept upright, separate, and not stuck together.
- Every 24 hours, observe the surface once until the painted film appears blistering, or rust, then stop and record the time.
Currently, Megarad Center is assessing the corrosion ability of some paints such as Alkyd paint, AC paint, PU2K paint, etc.
Above are some basic introductions about evaluation methods and evaluation capacity of Mega Vietnam New Materials Research and Development Center. We receive samples of corrosion resistance assessment and send back reliable results, reports full of pictures, comments, and clear conclusions.
>>>Click HERE for more transfer products<<<
Contact
Office Address: Floor 2-A2-IA20, Nam Thang Long Urban Area, Pham Van Dong Street, Dong Ngac Ward, Bac Tu Liem District, Hanoi City, Vietnam
Research Center: Nhue hamlet - Kim Chung village - Dong Anh district - Hanoi - Viet Nam
Website: megaradcenter.com
Tel: (+84) 24 375 89089; Fax: (+84) 24 375 89098
Email: contact@megavietnam.vn