INTRODUCE TO POLYASPARTIC
1. What is Polyaspartic?
- General concept
Polyaspartics resin is a high-strength, good-performance concrete coating that protects and strengthens concrete surfaces when applied.
Polyaspartics has revolutionized the concrete coating industry over the past few years with its scratch and chemical resistance, slip resistance along with decorative effects that enhance the appearance and performance of concrete surfaces.
- Chemical nature
The chemical nature of polyaspartic coatings is based on the reaction of aliphatic polyisocyanates with polyaspartic esters.

2. The outstanding features of polyaspartic
To know this, it is important to know the advantages of its coating. Polyaspatic fixes quickly soak into the concrete, fill all voids, and seals them. The floor is easy to clean because it is resistant to oil, stains, and high temperatures.
A non-porous surface creates a more hygienic and dust-free environment. Polyaspartics is 100 times more flexible, especially at freezing temperatures, 10 times more scratch resistant, and won't turn yellow like epoxy.
3. Construction process
The 6 & 8-step process ensures the coating will prolong the life of the film. This all starts with proper concrete surface preparation, using an industrial diamond grinder to smooth and smooth the surface ensuring the best adhesion. Additional steps such as moisture testing, and filling of joints are taken to prepare the surface properly. Một lớp sơn lót sau đó được dùng và liến kết lớp phủ với bê tông. Next a layer of color is used to create a decorative effect. And finally, a transparent finish that provides chemical resistance and scratch resistance.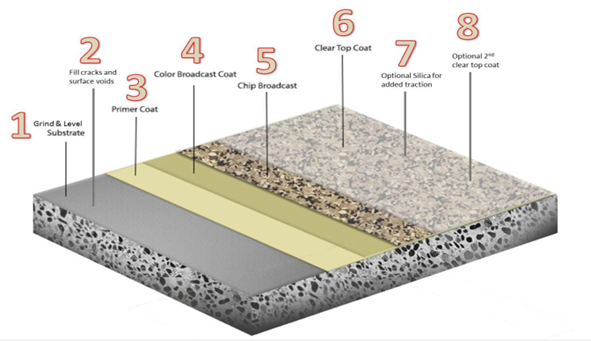 Above is some information about "polyaspartic". Hope to help you get more useful information.
For further details, please contact Mega Vietnam New Materials Research and Development Center to have the best answers and solutions.
>> Click for more scientific articles <<
Contact
Office Address: Floor 2-A2-IA20, Nam Thang Long Urban Area, Pham Van Dong Street, Dong Ngac Ward, Bac Tu Liem District, Hanoi City, Vietnam
Research Center: Nhue hamlet - Kim Chung village - Dong Anh district - Hanoi - Viet Nam
Website: megaradcenter.com
Tel: (+84) 24 375 89089; Fax: (+84) 24 375 89098
Email: contact@megavietnam.vn