QUV ACCELERATED WEATHERING TESTER "QLAB"
1. Overview
- QUV Accelerated Weathering Tester – Model: QUV/spray – Brand: QLAB- Made in: USA
- The machine is designed according to ASTM G154 standard
- The QUV machine regenerates the damage caused by sunlight, rain and dew to the paint film by using 3 main functions:
+ UV light: reproduces the harmful effects of sunlight (UV rays).
+ Condensation: reproduces natural weather moisture in the form of dew.
+ Spray: to simulate rain damage the QUV is equipped with a sprinkler system.
- Types of damage include color change, loss of luster, flaking, cracking, cracking, fading, causing brittleness, loss of strength, and oxidation.
- QUV machine helps to shorten the time to draw conclusions about the weather resistance of paint films
2. Structure of QUV
- UV lamp: has 8 bulbs, is a UVA bulb with a short wavelength of 340nm, the maximum radiation intensity is 1.55 W.m-2.nm-1
- Machine control panel: time setting, running cycle, error correction, etc.
- Prototype rack: there are 24 racks, each rack can test 2 samples
- Water heater, room air cooler
- Heating system, spray system
3. Photo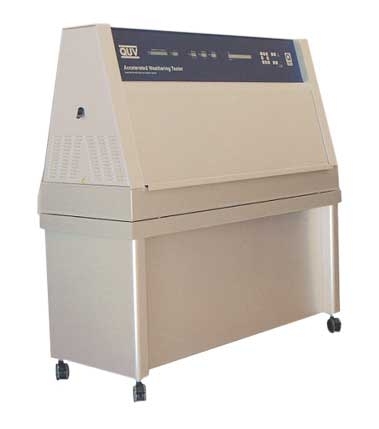 >> Click HERE to get advice on transferring paint production technology <<
Contact
Office address: Floor 2-A2-IA20, Nam Thang Long Urban Area, Pham Van Dong Street,
Dong Ngac Ward, Bac Tu Liem District, Hanoi City, Vietnam
Research Center: Nhue hamlet - Kim Chung village - Dong Anh district - Hanoi - Viet Nam
Website: megaradcenter.com
Tel/Fax: (+84) 24 375 89089 / (+84) 24 375 89098
Email: contact@megavietnam.vn