EVALUATION OF THE WEATHER RESISTANCE OF PAINT FILM WITH ACCELERATED WEATHERING TESTER (QUV)
Currently, assessing the weather resistance of paint film is one of the important criteria in assessing the quality of paint. The assessment on the weather accelerometer (QUV machine) helps to draw conclusions much faster than the natural weather assessment and still gives reliable results.
To simulate outdoor weather including sunshine, rain, and pleasure, the QUV exposes the material to alternating cycles of UVA light, humidity, and water at controlled high temperatures. Over a few days or weeks, the QUV simulates the deterioration of a paint film that occurs over months or years when it is in the wild.
The Accelerated Weather Tester is the world's simplest, most reliable, easy-to-use weather simulator and is widely used in laboratories around the world.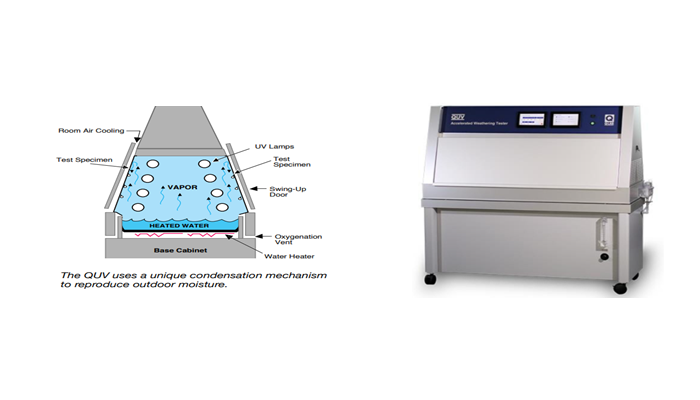 Photo: Accelerated Weathering Tester (QUV)
The QUV weather assessment method at MVR is referenced from Vietnamese and international standards:
- TCVN 11608-3:2016 (ISO 16474-3:2013) Paints and varnishes - Methods of exposure to laboratory light sources - Part 3: Ultraviolet fluorescent lamps
- TCVN 8785-1: 2011- Paints and protective coatings for metals- test methods under natural conditions
- ASTM D4587 - Standard Practice for Fluorescent UV-Condensation Exposures of Paint and Related Coatings
Currently, we evaluate QUV weather resistance in a laboratory under standard conditions: temperature 25 ˚C, humidity: 45-55%. The evaluation cycle according to Cycle 2 of ASTM D4587 is as follows:
Function

Radiation (W.m-2.nm-1)

Temperature (˚ C)

Duration (hour)

UV

0.89

60

4

Condensation

N/A

50

4

Repetition

8h/cycle
The QUV assessment operations at the MVR include the following basic steps:
The paint is sprayed to a dry thickness equivalent to the dry thickness according to the application, the paint film dries naturally. After that, tape is applied at the edges of the specimen to prevent rusting.

Setting the running mode, and time according to the standard.

Putting the paint specimen to be evaluated in the sample rack. Press "run" to start.

After certain cycles, the specimens were taken out to evaluate the criteria including yellowing, color change (dE), chalking, wrinkles, cracking, blistering, gloss reduction, and adhesion reduction.

Until the paint film is changed in surface, color, adhesion, and gloss as specified in the standard, stop.
Currently, Megarad Center is evaluating the QUV weather resistance of some paints such as Alkyd paint, AC paint, PU2K paint, etc.
Above are some basic introductions about the QUV machine and the evaluation capacity of Mega Vietnam New Materials Research and Development Center. We receive a weather test sample on a QUV and send back reliable results, a report full of photos, comments, and clear conclusions.
>>>Click HERE for more transfer products<<<
Contact
Office Address: Floor 2-A2-IA20, Nam Thang Long Urban Area, Pham Van Dong Street, Dong Ngac Ward, Bac Tu Liem District, Hanoi City, Vietnam
Research Center: Nhue hamlet - Kim Chung village - Dong Anh district - Hanoi - Viet Nam
Website: megaradcenter.com
Tel: (+84) 24 375 89089; Fax: (+84) 24 375 89098
Email: contact@megavietnam.vn